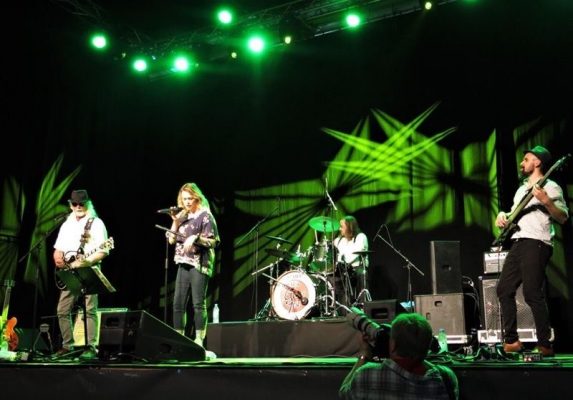 ---
What we do
Karin Rudefelt & Doctor Blues is a Swedish, well renowned and experienced blues band with a modern sound. Everything we do is firmly grounded in the blues but we never let the form or tradition of it constrict us from what we want to do. We mix influences from different blues genres and decades as well as bring in fresh blood in the form of rock and funk. Our blues is alive and free spirited. Our goal is not to pay the best tribute to past traditions – we want to see the blues develop and gain character from current themes and sounds.
The band has been around since the beginning of the eighties, in different settings. Thus plenty of exciting musicians have made their mark throughout the years. That's how it works – each musician brings his or her musical background and references to the mix and the result is the specific sound of the band. And our sound is truly our own since we write and arrange all the songs ourselves.
Today Karin Rudefelt & Doctor Blues consists of the following; Karin Rudefelt – vocals, Lennart Olofsson – guitar and vocals, Mauro Navarro – bass and Tobias Magnusson – drums. We have played together for long and intend to keep doing so for years to come too.
So please check out the Start page or the Discography page (under Music in the menu) and get a taste of the sound. Also take a look at our Reviews section – we are mighty proud of them, of course.
If you like what you hear and read and want more information or talk gig opportunities – contact us, please! Call or email Lennart, who is the main contact for the band. You will find all contact info on our Contact page or down in the footer of each page.
---
Presenting the band
Karin Rudefelt – Lead Vocal
Karin Joined the band in 1996 and hasn't looked back since! Inspiration comes from eminent singers such as Bonnie Raitt, Sheryl Crow, Beth Hart, Eva Cassidy and Swedish Louise Hoffsten.
Karin works a lot with dynamics and sports a good range of soft to powerful expressions. One of her proudest moments was after a surprised comment from a man in the audience, several years back " Your song is like a fist blow in the gut". Now that is something to aspire to!
---
Lennart Olofsson – Guitar, Slide guitar, Vocals
Lennart is "The Foundation and Power of the band" – as the only original member of the band he writes all songs. BB King, Buddy Guy, Peter Green and Jimi Hendrix are some of his influences.
Visionary and project manager alike Lennart, a.k.a "Ledar'n" "Boss man" runs a fairly tight ship with occasional outbursts of sarcasm or mutiny amongst the rest of the crew.
---
Mauro Navarro – Bass
The band's most recent addition is the multifaceted bass player Mauro Navarro, who started playing with Karin Rudefelt & Doctor Blues in 2018. Mauro has his roots in Chile and has a rich history of playing in bands with latin style influences. Mauro's eclectic bass player style (and personality) is influenced by a wide range of genres – latin, blues, funk and jazz to mention a few.
---
Tobias Magnusson – Drums
Tobias is the hard core rocker of the band. Roots firmly planted in the heavy metal genre. A welcome influence to the rest of the band indeed.
Don't let the long hair and metal t-shirts fool you. Tobias is a classy guy and actually did all the 2012 gigs in a snazzy suit, to commemorate having reached 100th gigs with Doctor Blues.
---
Then and now
It all began when Lennart Olofsson (Swe) and Dan Bindel (Den) met in the spring of 1980. Their styles came together into an exciting blend with Dan's slide-based delta-blues and with Lennart's roots in the heavier Chicago style and white British blues of the 60's. As a result of their encounter, a cult-marked blues-band called Doctor Blues was born. In September 1981 the band performed their first gig in front of a full auditorium – and the success was a fact. Doctor Blues had soon established themselves on the blues-scenes across the whole south of Sweden as well as in Denmark.
In the beginning the band was more of a project than a solid constellation, and up till now some twenty or so musicians have made their mark on the sound. Through the years the composition has been a creation of everything from trios to sextets and the repertoires have been adjusted accordingly. A rough and heavy live sound profile was to be the band's distinctive feature! To start off with, Doctor Blues was exclusively a cover-band, but as Lennart started to produce his own songs, they gradually began to work with their own material.
In September 1981 the band performed their first gig in front of a full auditorium – and the success was a fact. Doctor Blues had soon established themselves on the blues-scenes and headlined festivals across the whole of Sweden as well as northern Europe.
A milestone of vital importance for the band's history came with the blues-singer Karin Rudefelt's appearance in 1996. With Karin's entrance the vocal part of their music got a new dimension. Consequently, from then on, the band calls themselves "Karin Rudefelt & Doctor Blues". Their first independent full-length album "No Pain No Gain" with own material only, was released in 2003. The album received warm receptions and fine reviews in the American blues-magazine Blues Revue amongst others.
Due to the release of their second album "Breakin' the chain" in 2006 the band reached a definite lift.
2008 the band delivered their third album "Magic Brew", with a touché of damp hot Mississippi voodoo feeling, mixed in a boiling pot of widely huddled heavy and rocky blues. The album has rendered a huge response amongst the blues community all over the world. "Karin Rudefelt & Doctor Blues" have toured around northern Europe and Scandinavia, and performed in most places with a blues-profile, like the biggest blues-festivals and most important clubs.
The album Walk the walk was released in November 2011. Accompanying the usual crew are Erja Lyytinen, the blues queen of Finland also known as"the Queen of Slide Guitar", and well known slide guitarist Brian Kramer originally from Brooklyn NYC, now based in Sweden. Both with wonderful contributions to several of the tracks.
The latest full length album – 'Out of the blues' – from Karin Rudefelt & Doctor Blues was released in December 2015. This album also features several great guest performances. More info and tracks to listen to from it can be found here. Also, stay up tp date on the latest music video releases from the band on the Karin Rudefelt & Doctor Blues's  Youtube channel.
In 2020, The sound of Karin Rudefelt & Doctor Blues is as dynamic as ever – diverse and edgy with a heavy base and a lot of heart. The band has always looked upon the blues as a mirror and reflector of it's time, and from that fact booth lyrics and musical influences are connected to today's society and its people. The blues heals and cleanses!